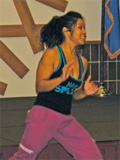 Sean M. Tolbert/Pioneer
Sandi K. Price, OCCC student and Zumba instructor, leads a group of Zumba enthusiasts in the College Union.
As many as 300 dancers could be moving to the beat of Latin music at the Zumba event on campus from 3 to 5 p.m. Saturday, Oct. 15, said Jennifer Ball, director of the physical therapy program and one of the event organizers.
She said their goal is to double last year's participant total of 150.
Zumba is a Latin style dance workout that is referred to as "exercise in disguise."
For the second year in a row, the PTA student club will host the Zumba event as a fundraiser, Ball said.
They will have licensed instructors from all over the state teaching the classes in the Recreation and Fitness area of the Aquatics Center.
The event will include the original Zumba as well as Aqua Zumba. Land Zumba provides more of a lower body workout while Aqua Zumba offers more of an upper body workout, Ball said.
Aqua Zumba participants still do the dances but in slower motion because of the resistance the water provides. Participants for Aqua Zumba will need to bring a swimsuit and towel.
Aqua Zumba benefits everyone but is especially good for people with bad joints, who are pregnant, or obese, Ball said. Zumba is generally recommended for ages 12 and up.
PTA students will staff the event which is being offered in October in celebration of Physical Therapy Month.
After the cost of the event is paid for, the remaining proceeds will be donated to the Rylyn Meacham Center in Oklahoma City that provides people with physical therapy after their insurance runs out, Ball said. They also provide physical therapy for patients who have no insurance.
Rylyn Meacham is a pro bono center, where OCCC PTA students donate their time as a service to the community. The goal of the Zumba event is to promote active, healthy lifestyles and prevent obesity, Ball said.
Participants can register at the door on the day of the event or online at www.signmeup.com/78409. The cost will be $20. Only cash will be accepted at the door but participants can use a credit card online.
OCCC offers both Zumba and Aqua Zumba classes on Tuesday and Thursday, instructed by Sandi Price. Aqua Zumba is at 11 a.m. at the pool on those days and land Zumba is at noon in the aerobics room.
For more information, contact Jennifer Ball at jball@occc.edu, or 405-682-1611, ext. 7305. A waiver must be signed to participate.
To contact Stephanie Luna, email onlineeditor@occc.edu