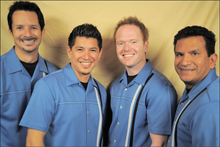 The doo-wop group, the Alley Cats, will perform on campus at 7 p.m. Thursday, Dec. 1.
Bringing their own "contemporary style" to well known hits from the '50s and '60s, the Alley Cats will kick off the holiday season at the Bruce Owen Theater, said Lemuel Bardeguez, director of cultural programs.
This particular show is entitled "Jingle Bell Rock: A Harmoniously Hysterical Holiday Hit!"
Their style of music is known for its male four-part harmony sung without instrumental accompaniment, Bardeguez said.
Although this show is holiday themed, the Alley Cats will incorporate their main hits, like "Rockin' Robin" into the set.
Although this a cappella group appeals to the older demographic due to the time period in which the Cats get their style, Bardeguez said, the quartet also appeals to the entire family because of the interaction they have with the audience and the comedy they display while on stage.
"It's a good time," Bardeguez said.
"The Alley Cats showcase the arts in an entertaining way."
Besides performing at theaters and other event locations, the Alley Cats have traveled to more than 2,000 schools throughout the U.S.
The Cats teach students about the elements of music and performance.
More information about this program can be found on their website at http://www.thealleycats.com/arts-ed.iml.
Having multiple groups of Alley Cat performers allows them to travel to different cities and share their talent with many audiences on the same day.
"Oklahoma City Community College is proud to host a group of them for a night of wintertime classics in the a cappella," Bardeguez said.
Tickets are $10 for students, $17 for staff, and $22 for general admission. For more information, visit the Cultural Art Series website at www.occc.edu/cas, or call their office at 405-682-7576.
To contact Hilary Groatman, email onlineeditor@occc.edu.