A New Normal: A Vision of the Future in California Wildfires.
As the world turned its calendar to December, southern California is engulfed in flames.
Six major wildfires have broken out in southern California, covering an area greater than New York City and Boston combined, fire department officials have said.
Reports from the California Department of Forestry and Fire Protection indicate the wildfires began earlier last week and have spread down the coast from Ventura to the southern part of Los Angeles.
Ventura County Sheriff Captain Garo Kuredjian told media representatives the firefighting efforts have already cost $34 million as of Sunday. California building experts have estimated that 790 structures have been destroyed and 191 more were damaged.
Damages have brought the total for California to $10 billion. This fire, as reported by the California Department of Forestry and Fire Protection, was the costliest wildfire in United States history.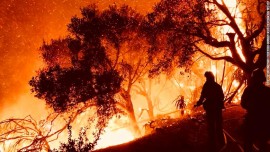 California Governor Jerry Brown saw the damage done to his state during the fires. His words provided consolation as much as they gave a warning.
"With climate change, some scientists are saying that Southern California is literally burning up," Brown said. "So we have to have the resources to combat the fires and we also have to invest in managing the vegetation and forests in a place that's getting hotter. This is kind of the new normal."
Gusting dry winds have continued to fight the efforts of the firefighters. For the next 10 days, it is predicted that no rains and dry weather will continue ravaging the burning state.
Winds have been reported to blow 40-55 mph on average, while temperatures remain at a consistent 78-82 degrees. The humidity levels have fallen to below 10 percent.
More than 90,000 people in southern California have been evacuated from their homes and businesses in order to avoid the increasing wildfires.
Alyssa Nell is a stay-at-home mother living in Los Angeles County on the border of Orange County. An hour-and-a-half drive separates Nell from the wildfires.
She said, "[people] have scattered across California due to the evacuations and not knowing where the fires are going to go."
"You have to drive an hour and a half before you can start seeing the smoke but it's getting hard to breathe around here," Nell said. "There's plenty of people living in hotels and just waiting for all of this to stop. You have firefighters coming in from places like Texas and the surrounding areas to help the spread of the fires."
By Monday morning, more than 70 people died, over 9,000 firefighters worked 20 hour shifts, and 256,490 acres were scorched.
While none of the fires have been officially contained, four out of the five are close to being taken down. The closest to being contained is the Creek Fire which burned down over 15,000 acres in Los Angeles County. The second-largest blaze has been 95 percent contained.
Red flag warnings have been issued for much of Los Angeles and Ventura. They will extend into Tuesday night. Meteorologists have predicted that the smoke will have more of a lasting effect than the fires could bring forth.
The strongest of the fires has been named the Thomas Fire. With over 230,000 acres burned and only 10 percent contained, the wildfire has been classified as the fifth strongest fire in California's history.
A report from the Santa Barbara City Office of Emergency Services said 19 out of 20 schools will be closed on Monday. School closures throughout the southern region of California will remain in effect for the rest of the week as firefighters continue to suppress the flames.
Celebrities living in the area, including Oprah Winfrey and Ellen Degeneres, have had to evacuate their homes.
Degeneres wrote on Twitter shortly after leaving her home, "Our house is under threat of being burned. We just had to evacuate our pets. I'm praying for everyone in our community and thankful to all the incredible firefighters. The live stream is on KEYT.com."
Many Californians are left homeless as the fires rage on. The distance of the destruction has not stopped services like the Red Cross and United Way from helping those affected by the wildfires.
The events of California could easily happen to any state in the country. Droughts that lead to fires have been an occasional thing which Oklahomans have had to deal with.
When dealing with natural disasters, preparedness is key.
The Oklahoma Fire Department Administration has shown plans which could be used in case of a wide spread wildfire.
"Oklahoma covers 621 square miles and the issue over wildfires is something we see to some degree each year. Most of the fires are handled by our departments but we always have plans just in case things get out of hand."
The two major contingency plans include calling in aide from the 36 stations spread across the state, and calling in the National Guard for air support.
Even though California might view these destructive events as the new normal, does not mean that a helping hand should be extended for our fellow humans.
If you would like to help and donate to the cause, you can visit vcunitedway.org or redcross.org to provide aide. You can also call (805) 485-6822, text UWVC to 4144 to donate.
As the holiday season continues, let us continue to express our love for humanity by helping those in need.