2015 graduates will have higher loan debt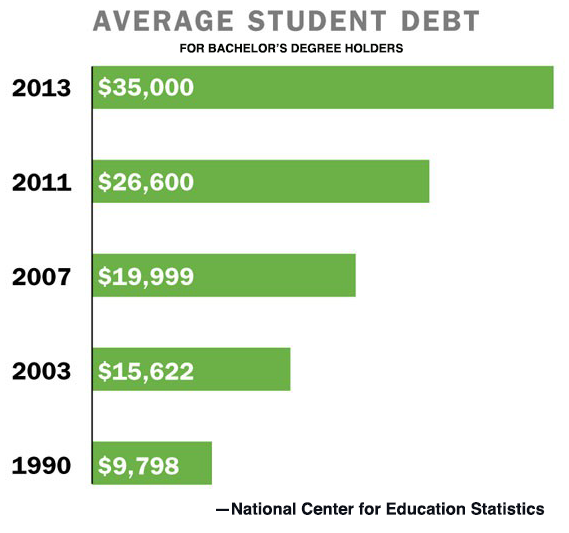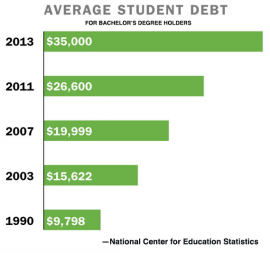 This year's bachelor's degree graduates will leave college with more student loan debt — an average of $35,051 or $2,000 more — than their counterparts in 2014, according to marketwatch.com.
What hasn't changed is the number of students going into debt, said Mark Kantrowitz of Edvisors.com, a website that provides information to parents and students about college costs and financial aid.
"The share of students graduating with debt remained roughly the same as last year at about 70 percent," he said.
Angela Leal, OCCC Financial Aid Compliance Assistant Director, said borrowing only the amount a student needs can help keep that debt down.
"One common misconception — especially with new students — is they think in order to take loans they have to take the full amount they were awarded," she said.
Leal said taking the entire amount that is offered leads to students having more debt than they planned on at graduation. Instead, she said, students should plan to borrow only what they need.
"If a student is awarded $5,500, but … they realize with all their other aid, they only need $2,000 of their loan, they can take just the $2,000.
"If they realize later they need a little more, that money is still available to them and they can increase the amount they need."
Taking only the amount that is needed each year also can keep students from reaching their loan limits, Leal said.
"Unfortunately we do see situations where students come in with a high loan debt and they've run out of Pell eligibility, and there's not aid available because they have hit their limit."
The type of loan a student takes also is important, Leal said. Those are subsidized or  loans.
"The subsidized loans do not [accrue] interest while the student is in school," she said.
"The unsubsidized loans do collect interest while the student is in school; however, the student is not required to repay those loans until they graduate or until they are no longer enrolled in more than six hours."
Leal said students who take loans could actually start repaying the loans while still in school with no penalty. She suggests paying back the unsubsidized loan first since it starts collecting interest while you are still in college.
"If you do make payments early, be sure [to] specify it's for your unsubsidized loan so you're paying down the loans that are collecting interest.
"[Students are] not required to start paying the loans back (before graduation), so the money they pay now is just going to reduce the amount of loan in the future," she said.
"Then, when they are required to make payments, those payments will be lower. They don't have to make the full loan payment, but they can pay the interest that's incurred."
Leal said she strongly recommends those who have taken student loans to watch the amount being borrowed on the NSLDS website at www.nslds.ed.gov.
"Sometimes it can be a shock when students graduate and they didn't realize their loan debt is as high as it is, and they don't know there are resources and website that can track that," she said. "They can come into our office and we can check for them. But just monitor the loan debt."
The NSLDS website also allows students to log in and see who their lender is, the total amount owed, and ask the lender about repayment options, Leal said.
"The NSLDS also has repayment calculators that will show them, based on their loan debt right now, what their estimated payment would be."
Leal said another resource available is an organization put together by Oklahoma State Regents for Higher Education called Oklahoma Money Matters at www.oklahomamoneymatters.org.
The site offers tips on managing funds and repayment information, she said.
"There's information for students. There's information for parents. There's information for administrators at the college level. There's information for educators K-12," she said.
"There's all kinds of information there and we do recommend that website to people."
Another reason students should borrow only what they will be able to easily pay back later, is it lowers the chances a student will default on the loan later.
"The [loans] are reported to credit bureaus and … later on, if they have defaulted loans it can prevent them from buying a house or car because it hurts their credit. It is very important to pay those loans."
Leal said there are a number of options for repaying student loans, but the standard is usually a 10-year plan based on the loan amount with a minimum payment of $50 a month.
"There are other repayment options," she said. "Many of them are based on income where they are required to send financial information to the lender and they will work to find a payment.
"They periodically check the student's income … so that when the student is able to make more payments then the payments will increase. But that allows the students to stay in repayment and not go in default.
The length of time it takes to pay off the loan debt depends on the amount of the loan Leal said. She said one way for students to avoid accruing too much student loan debt is through scholarships and tuition fee waivers.
"Always search out scholarship opportunities," she said. "The (OCCC) admissions office has some scholarship information students can apply for.
"We do have departmental tuition waivers that students can apply for every semester. All of the different departments have tuition waivers.
"Any time [students] can get free money, that's better because it lowers the amount they may have to take later in the future with student loans."
Leal said it's all about being a responsible adult.
"Just basically be aware of your loan debt and if you don't need it, don't borrow it."
For more information, contact the Financial Aid office at 405-682-7525.